2020 IBAS Convention & AGM
October 29, 2020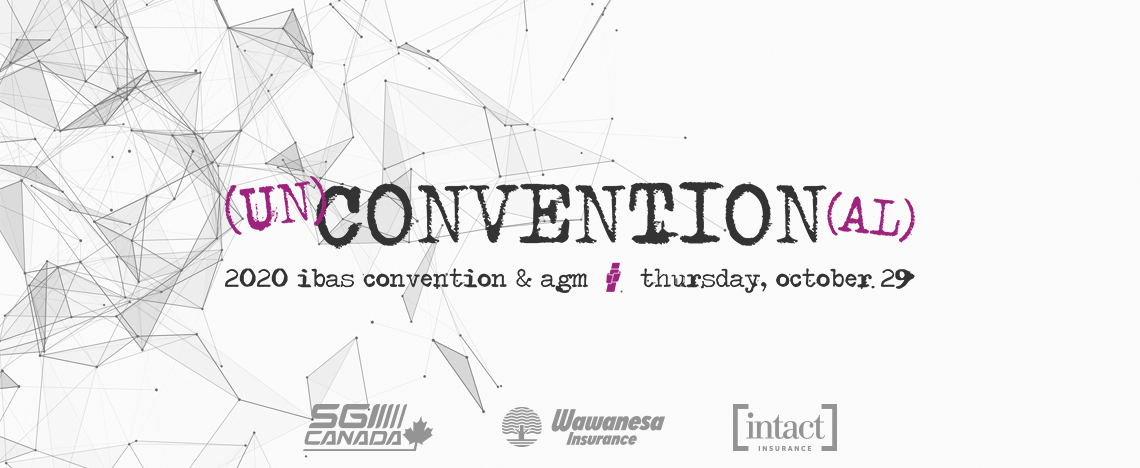 For the first time ever, the IBAS Convention & AGM will be coming directly to you — from the comfort of your office, home, or internet-enabled device — for a one-day, truly immersive digital event. You must be an IBAS member or convention partner to register (only broker members may attend the AGM). Members are eligible to receive up to four CE credit hours. There are also thousands of dollars worth of amazing prizes to be won!
Details
Date & Time
Thursday, October 29, 2020
Program:
10 a.m. – 2:45 p.m.
Virtual Happy Hour & Live Auction:
3:45 – 5 p.m
Please note that there will be plenty of breaks throughout the day, including a one-hour lunch break!
Cost
Full convention registration is $50 per person (plus GST). $25 from each registration will go directly to IBAS's 2020 Charity Campaign in support of STARS air ambulance. We sincerely hope you and your colleagues will take part together — even if you don't regularly attend our in-person convention! Scroll to the bottom of this page to register.
Convention Access
Registrants will be e-mailed the necessary login information in the fall, closer to the date of the event.
Here's how it'll work
This 100% online event will borrow many of the same elements that you've come to expect from convention — expert speakers, relevant discussions, and world-class entertainment — just delivered a bit differently, through your computer, laptop, or digital handheld device.
Prior to the event, all IBAS member branches will receive a special 'convention care package' delivered directly to their brokerage, containing a hard copy of the annual report, convention swag, and other surprise goodies — everything you need to truly experience convention.
Agenda

10 – 10:15 a.m.:

 Opening Remarks
10:15 – 11 a.m.:

 State of the Insurance Industry

Sponsored by Intact Insurance 
|
  Draw: $1,000 Sask-Clothing Shopping Spree
Insurance Bureau of Canada President & CEO Don Forgeron sits down with IBAS's Derek Lothian to discuss the key trends shaping our sector, and what lies ahead for carriers and brokers alike.
11 – 11:15 a.m.: Health Break Challenge #1
Sponsored by GMS  |  Draw: B&O Beoplay E8 Sport 'On Edition' Waterproof, Wireless Earbuds (Sourced from Brainsport)
11:15 a.m. – 12:15 p.m.:

 Relentless Adaptation in the Age of Disruption

Sponsored by Wawanesa Insurance & SGI CANADA  |  Draw: $2,000 Donation to a Local Charity or Not-for-Profit of Choice
Amber Mac, acclaimed technology expert and host of The AI Effect podcast, shares her tips on how brokerages can not only survive but thrive in a time of unprecedented economic, social, and technological change.
12:15 – 1:15 p.m.:

Team Lunch
Sponsored by Saskatchewan Mutual Insurance  |  Draw: Huddly HD Portable Conferencing Camera (Sourced from Hillman AV)
Pick up lunch from your favourite local restaurant to support your community's economy. Over lunch, be sure to chat with your colleagues and share one key learning or takeaway from the first two sessions.
1:15 – 2:15 p.m.: Insurer Executive Panel
Sponsored by Lydale Construction  
|
  Draw: $500 Gift Certificate to Pine View Farms All Natural Meats
IBAS Chair Dave Pettigrew facilitates an interactive panel discussion featuring some of the most prominent carrier executives in the country. Confirmed panelists include Andrew Cartmell (President & CEO, SGI CANADA), Carol Jardine (President, Canadian P&C Operations, Wawanesa Insurance), and Debbie Coull-Cicchini (Executive Vice President, Ontario, Western & Atlantic Canada, Intact Insurance).
2:15 – 2:30 p.m.:

 2020 IBAS Community Leadership Award

Sponsored by Saskatchewan Blue Cross
The second annual IBAS Community Leadership Award recognizes the outstanding contributions of one brokerage and one individual broker that have gone above and beyond to make a difference in their respective communities. The winners will be unveiled as part of this special presentation.
2:30 – 2:45 p.m.:

 Health Break Challenge #2
Sponsored by GMS  
|
  Draw: $250 Gift Card to Fresh Air Experience
2:45 – 3:45 p.m.:

 2020 IBAS Annual General Meeting

Sponsored by Wynward Insurance  
|
  Draw: One-Night Stay (With Supper & Goodies) in The James Hotel Penthouse Suite

This is your association, and it is important that your voice be heard. We will be using this opportunity to review the past year, elect association representatives, and consider a new three-year strategic plan to carry IBAS through the summer of 2023.
3:45 – 5 p.m.:

Virtual Happy Hour & Live Auction

Sponsored by SGI CANADA & Wawanesa Insurance
Crack a cold one (safely distanced, of course) alongside your colleagues, turn up the speakers, and take in our live musical entertainment — Saskatchewan country music sensation featuring Tenille Arts — the 2020 Canadian Country Music Awards' Rising Star! We will also be pausing for a brief intermission to hold a special live auction with the proceeds going directly to IBAS's 2020 STARS Charity Campaign.
Live Auction Package 
Fly-In Fishing Trip for Four to Northern Saskatchewan
Delivered through Adventure Destinations International, a locally owned and operated business, this unique, three-night excursion for four people (July 2021 through the first half of September 2021) is to picturesque Dead Lake in Northern Saskatchewan, along the Churchill River System — home to world-class walleye and pike fishing. The package, includes:
12-minute return flight from Thompson's Resort in Missinipe to the Dead Lake outpost camp;
Three nights' accommodations and three days' fishing;
16-foot aluminum fishing boats and fuel;
Two propane-powered cabins situated atop a scenic, secluded beach;
Fishing nets and tubs;
Private fishing guide; and
Supplied shore lunches, prepared by your guide.
If preferred, the winning bidder can exchange the fishing guide and included shore lunches for a fourth night added onto the trip.
What else is happening?
Partner Town Halls
In lieu of a trade show, IBAS will be hosting a series of  one-hour Virtual Town Halls throughout the fall with several of its partners. These will be ideal opportunities for brokers to catch-up on the latest information, learn about product offerings, and connect with carrier executives. Registration is free but is open only to IBAS broker members. Check our 
event listings
for details or to sign up.
October Charity e-Auction
Between October 1 – 30, IBAS will be hosting a virtual auction to raise funds for our STARS Charity Campaign, where members and partners can bid instantly on a variety of incredible, locally sourced auction items. Winning bidders will be invoiced the first week of November. 
Click here
to browse or bid!