There are many different education and development opportunities available to Saskatchewan insurance brokers. Most of this training, however, focuses on the technical aspects of the job — and the vast majority fails to incorporate dedicated elements for brokerage entrepreneurs and other emerging brokerage leaders.
IBAS, in partnership with SGI CANADA, has introduced a new initiative to fill that gap, with the launch of the IBAS Leaders Forum.
This year-long program, first rolled out as a pilot in 2020-21, brings together groups of selected individuals for facilitated regular meetings that blend peer mentorship, group discussion, targeted learning, and shared accountability. Each meeting focuses on a topic of mutual interest — often led by an expert guest speaker — and provides a confidential, constructive environment for participants to navigate the challenges facing their brokerages.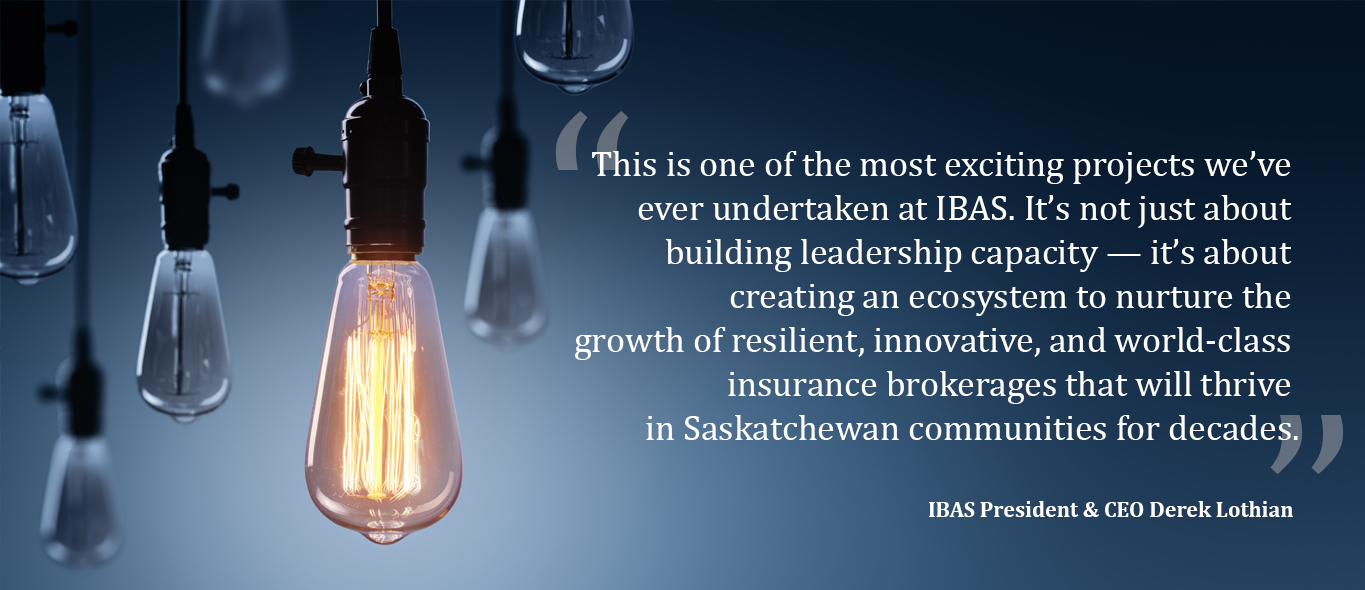 Current Cohorts
There are currently three cohorts operating with a total of 27 participants representing 24 different Saskatchewan insurance brokerages.
Participant Testimonials
"The most impactful part of the Leaders Forum for me was the connections with fellow brokers. I no longer feel like I am an island." - Trina Barber (Owner, Carnduff Agencies)
"The IBAS Leaders Forum provided a connection with like-minded individuals to maintain and grow my business, and the ability to be honest and vulnerable about real-life problems. The integration of the social component with the professional element was also rewarding." - Arynne Miller (Owner, St. Brieux Agencies)
"The most obvious benefit of the Leaders Forum is the networking — connecting with people in similar situations and roles, facing similar issues and having the opportunity to discuss those issues with them. I have grown as a leader. The program has helped me focus on both personal and business aspects of leadership growth. It has helped me figure out both who I want to be as a leader and what we want the business side of leadership to be like." - Joanna Reece (Director, South Region, Harvard Western Insurance) 
"The Leaders Forum came at an excellent time for our business. When the three of us took over ownership of our company, we were nervous about disrupting what our predecessors left us. The business was doing great, so why change what isn't broken? As time continued, staff morale started to decline, we were starting to see an impact on service, and we were short on answers. In comes the IBAS Leaders Forum, which really helped solidify us as leaders of our brokerage. It was time to take the reigns. Through the help of the excellent guest speakers and conversations within the forum, we were able to transform our office culture. Now we have buy-in, we have energy, and the future is looking bright!" - Will Smith (Partner, W.W. Smith Insurance) 
"The facilitator has been excellent. He is very intuitive and able to pick up on both what was said and what was not being said. Knowing people were there for me was impactful. Other industry leaders took genuine interest and concern in how not only how our organization was doing, but how I as a leader was doing. The Leaders Forum was my life raft in a storm." - Daryl Arendt (Former Manager, Campbell & Haliburton Insurance)
Join a Cohort
Interested in joining the Leaders Forum? E-mail us at community@ibas.ca for pricing, member expectations, and general information.
About the Facilitator
Stephen Heckbert is a nationally acclaimed communications, strategy, and project management expert, with more than 20 years' experience guiding organizations through complex and transformational change.
A graduate of the University of PEI, Stephen began his career as a journalist, working stints with the CBC, Sherbrooke Record and New Brunswick Telegraph Journal, before relocating to Ottawa to obtain his master's degree at Carleton University. Following his studies, Stephen held increasingly senior-level positions in both the public and private sectors, including as:
Vice President, Communications, with technology giant EDS Canada;
Director of Communications for the Liberal Party of Ontario;
Chief Operating Officer for NewsWatch, a subsidiary of CCL; and
Senior Advisor to the federal Minister of Citizenship and Immigration.
An accredited public relations practitioner (APR), Stephen has served as president of the Canadian Public Relations Society in the National Capital Region, as well as on the boards of the Canadian Organization for Development through Education and the International Book Bank. He is widely regarding as an expert facilitator, and has been previously honoured with the Excellence in Teaching Award and as Ottawa's Top 40 Under 40.
Stephen is currently the Executive Director of the Canadian Pork Council and is a sought-after consultant with clients across the country. He recently led the IBAS board of directors through the development of a new, three-year strategic plan, and has facilitated strategy sessions with some of Saskatchewan's most successful independent insurance brokerages.
Stephen can be reached at stephen.heckbert@ibas.ca.