There are many different education and development opportunities available to Saskatchewan insurance brokers. Most of this training, however, focuses on the technical aspects of the job — and the vast majority fails to incorporate dedicated elements for brokerage entrepreneurs and other emerging brokerage leaders.
IBAS, in partnership with SGI CANADA, is piloting a new initiative in 2021-22 to fill that gap, with the launch of the new IBAS Leaders Forum.
This yearlong program will bring together a select group of individuals for facilitated monthly meetings that blend peer mentorship, group discussion, targeted learning, and shared accountability. Each meeting will focus on a topic of mutual interest — often led by an expert guest speaker — and will provide a confidential, constructive environment for participants to navigate the challenges facing their brokerages. Two separate 'cohorts' of 8 – 14 senior brokerage leaders will comprise the initial intake.
Format  |  Application & Selection  |  Confidentiality  |  Costs  |  Session Agenda  |  About the Facilitator  |  Contact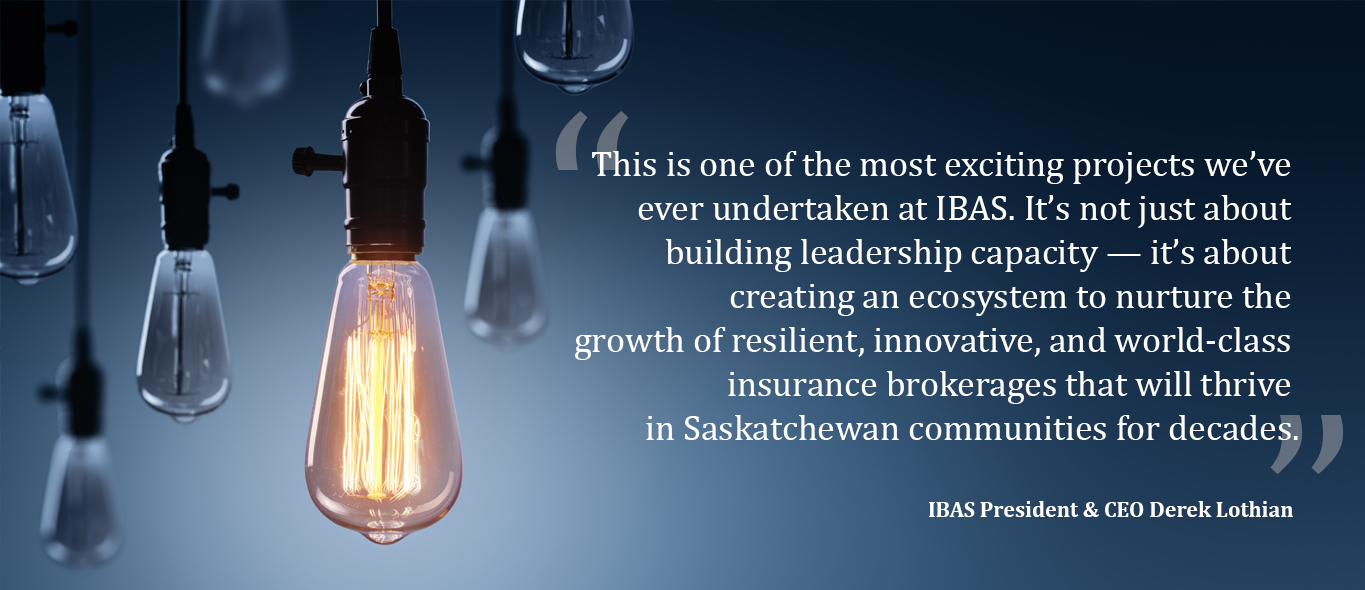 Format
The program will run April 2021 through March 2022 and shall consist of:
A minimum of eight full-day meetings (while the majority of these will be digital, IBAS will continue to monitor the public health situation, and, if guidelines permit, will aim to host one of these sessions in-person);
One dedicated session to coincide with the 2021 IBAS Convention & AGM (in-person or virtually, depending on the format of convention); and
Hourlong one-on-one mentoring and professional development sessions with the lead facilitator in each month where no meeting is scheduled.
Please note that these sessions are fully eligible for continuing education (CE) credit hours.
Application & Selection
Applicants may be nominated for participation by themselves, by their brokerage, or by a third party (such as an insurer). Applications will then be reviewed by a committee consisting of representatives from the IBAS board and SGI CANADA, as well as external advisors. 
The deadline to submit an application has closed.
Confidentiality
While every effort will be made to limit participation from brokerages with a significant degree of geographic competition with one another, given the nature of the Saskatchewan marketplace, that cannot be guaranteed. Regardless, all participants will be required to sign a confidentiality agreement to ensure discussions remain private and productive.
Costs
Participant fees are set at $3,999 per person; however, through this pilot, SGI CANADA is generously subsiding the rate by more than 50%, reducing the brokerage cost only $1,999 per person (plus GST). Arrangements to pay this fee in installments will be considered by IBAS upon request. Participants are responsible for their own travel and accommodation costs.
Session Agenda
Full-day sessions follow a consistent agenda that combines new learning and interactive discussion with group problem-solving and measures to ensure both individual and cohort accountability:
9 – 12 p.m.:

Learning session and breakout discussions

12 – 1 p.m.:

 Lunch break

1 – 1:30 p.m.

: Accountability report-outs

1:30 – 3:30 p.m.:

Roundtable discussion and group problem-solving

3:30 – 4 p.m.:

Accountability commitments
About the Facilitator
Stephen Heckbert is a nationally acclaimed communications, strategy, and project management expert, with more than 20 years' experience guiding organizations through complex and transformational change.
A graduate of the University of PEI, Stephen began his career as a journalist, working stints with the CBC, Sherbrooke Record and New Brunswick Telegraph Journal, before relocating to Ottawa to obtain his master's degree at Carleton University. Following his studies, Stephen held increasingly senior-level positions in both the public and private sectors, including as:
Vice President, Communications, with technology giant EDS Canada;
Director of Communications for the Liberal Party of Ontario;
Chief Operating Officer for NewsWatch, a subsidiary of CCL; and
Senior Advisor to the federal Minister of Citizenship and Immigration.
An accredited public relations practitioner (APR), Stephen has served as president of the Canadian Public Relations Society in the National Capital Region, as well as on the boards of the Canadian Organization for Development through Education and the International Book Bank. He is widely regarding as an expert facilitator, and has been previously honoured with the Excellence in Teaching Award and as Ottawa's Top 40 Under 40.
Stephen is currently a professor in the public relations program at Ottawa's Algonquin College and is a sought-after consultant with clients across the country. He recently led the IBAS board of directors through the development of a new, three-year strategic plan, and has facilitated strategy sessions with some of Saskatchewan's most successful independent insurance brokerages.
Stephen can be reached at stephen.heckbert@ibas.ca. 
Contact
For more information, please contact IBAS President & CEO Derek Lothian at (306) 380-3765 or by e-mail at derek.lothian@ibas.ca.