2021 IBAS Convention & AGM
October 14 - 15, 2021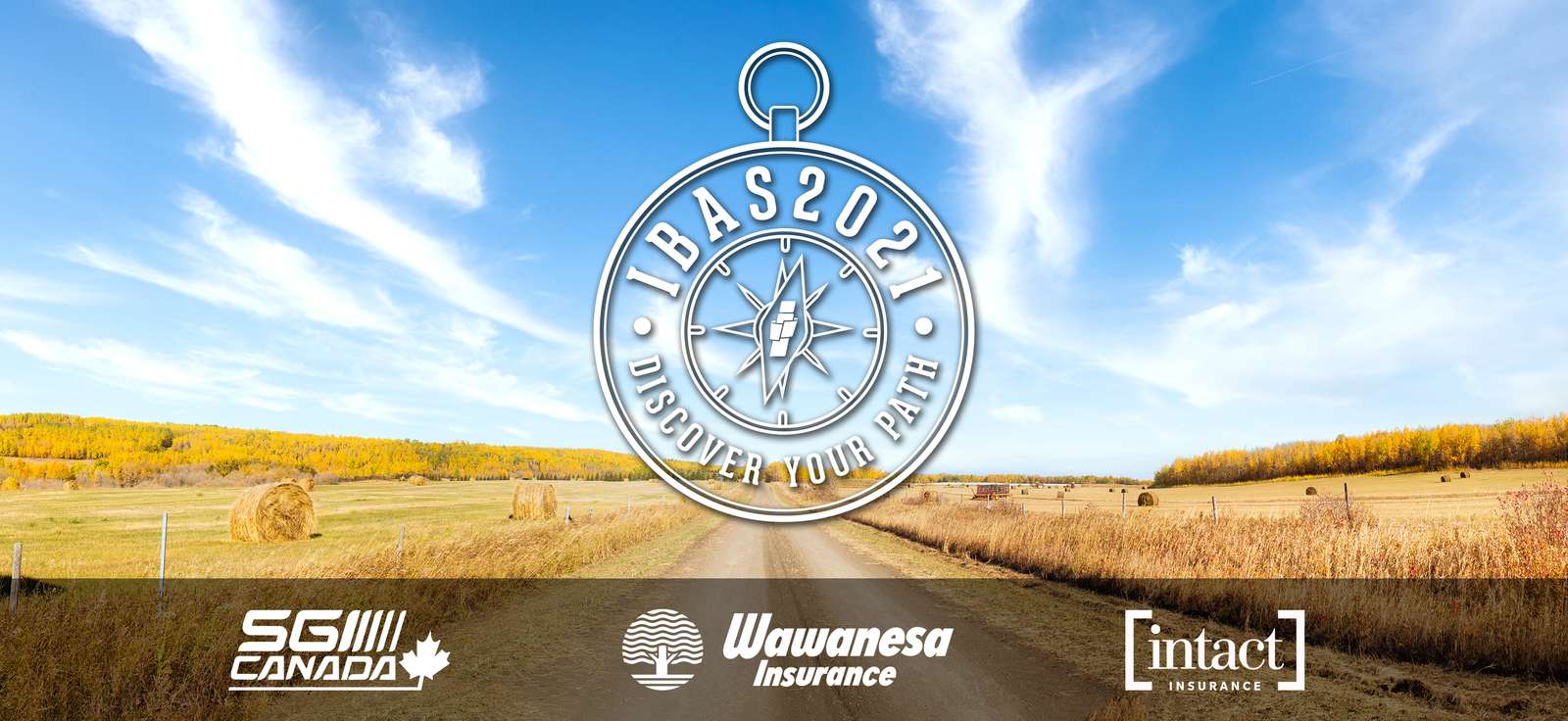 What to Expect  |  Event Program  |  The Fine Print  |  Pre-Convention Activities  |  Registration Details & Eligibility  |  Register Now
Don't miss out on the best networking and professional development opportunity of the year! Join us on Thursday, October 14 & Friday, October 15 at the Sheraton Cavalier Hotel in Saskatoon.
We all know how challenging the last year has been — on both a personal and a professional level. But through the social distancing, economic hardship, cancelled events, and endless Zoom calls, the support you have shown us has been overwhelming. And now, as restrictions ease and we begin to settle into our 'new normal,' it's our turn at IBAS to say thank you.
The 2021 Convention & AGM will undoubtedly look different than it has in years passed. To ensure the safety and comfort of our members, partners, and staff, we will be taking several significant adaptive measures; however, we are very confident that we will be able to deliver the same fun, insightful, and engaging experience that has become synonymous with our marquis event.
Register before August 31 to be entered into our early-bird draw for a chance to win $1,000 cash, courtesy of Intact Insurance. But don't wait — we are already more than 80% sold out!
What to Expect
World-Class Program: This will be — without exception — our best line-up of speakers and entertainment ever, with end-to-end world-class expertise and talent.
Safety Protocols: We are working closely with the Sheraton Cavalier Hotel, other industry associations across Saskatchewan, and senior provincial officials to identify and adopt health and safety best practices to minimize risk and create an enjoyable experience for all attendees. We will be distributing a full list of these requirements and protocols to registered delegates in advance of the event.
Centralized Delivery: To avoid mandatory movement and congregation of guests in close confinement (such as in elevators), all sessions will take place on the main floor of the venue. The program has also been reformatted to allow for more a more seamless event flow.
Limited Attendance: Given capacity restraints, and to ensure seating can be comfortably spaced, we are limiting the number of convention tickets available for purchase. Unfortunately, we expect demand to exceed capacity — although, it is a necessary step to make this event possible, so your patience and understanding is appreciated. We are asking all individuals interested in registering to please plan to attend the entirety of convention, including both the Thursday and Friday evening events.
Intact Virtual Stage: Can't make convention in-person? Not to worry! We've linked up with our friends at Intact Insurance to livestream the main program via online simulcast — including all keynotes and entertainment. See below for registration details.
Vendor Booths: In lieu of our regular trade show, 18 – 20 select vendor booths will be setup for the entirety of the convention program. This will also you to network with industry representatives at your convenience and comfort.
$10,000 in Prizes: In-person convention delegates are eligible to win more than worth $10,000 of amazing prizes, including our major prize of a $5,000 Air Canada or WestJet vacation voucher. But you must be present at the session in which your name is drawn to win!
Delegates' Lounge: The 'Top of the Inn' will be transformed into a dedicated delegates' lounge, complete with both soft and tabled seating, televisions, and more! Here, attendees can host meetings over drinks and light snacks at any time on Thursday and Friday.
Event Program

THURSDAY, OCTOBER 14, 2021

11:30 a.m. – 1:30 p.m.: Welcome Luncheon & Keynote #1
What inspires companies, and what makes them inspiring? Kick-off convention with a 'welcome back' luncheon and an invigorating keynote presentation from respected author and Fortune 500 advisor Dennis Moseley-Williams.  In this session, Moseley-Williams will talk about the 'experience economy' and will explore what businesses need to do to better connect with clients along their customer journey. 
2:30 –  4 p.m.: Annual General Meeting
Open to member brokers and special invited guests only, the 2021 IBAS AGM is an opportunity for brokerages to have a say directly in the governance and direction of their association. This will include the election of directors, as well as an update on the SGI issuer negotiations.
6:30 –  9:30 p.m.: Chair's Banquet & Entertainment
This marquis event will include speeches from IBAS executives and special guests, as well as a stand-up set from Canadian comedy legend Ron James. Hailed by critics from coast to coast, James is one of the country's top comics, consistently packing theatres for more than 20 years. He has written and starred in a record-breaking nine one-hour CBC comedy specials, and has created and starred in two television series.
FRIDAY, OCTOBER 15, 2021

7 – 8:45 a.m.: Grab'n'Go Breakfast
Attendees can head up to the delegates' lounge to pick-up a pre-packaged breakfast, which may be eaten in the lounge or taken back to attendee hotel rooms.
9 – 10:15 a.m.: Insurer Executive Panel
The insurer executive panel is one of convention's most popular sessions. Details will be announced closer to the event.
10:30 – 11:30 a.m.: Keynote #2
Join Dr. Robyne Hanley-Dafoe, a multi-award-winning psychology and education instructor, as she delivers practical strategies and advice for building resiliency, navigating stress and change, and cultivating personal wellness in the workplace. Described as transformational, engaging, and thought-provoking, Hanley-Dafoe's keynotes provide practical strategies, grounded in global research and case studies, that help foster resiliency within ourselves and others. This is one high-impact session you won't want to miss!
12 – 1:30 p.m.: Awards Luncheon & Grand Prize Draw
Help celebrate excellence in Saskatchewan's broker community. At this special luncheon, IBAS will present the 2021 Community Leadership Award as well as the annual Broker Service Awards commemorating 30 years of service, and will be inducting the latest class of CAIB graduates. We will also be drawing for our convention grand prize of a $5,000 WestJet or Air Canada vacation voucher — but you must be present to win!
2:15 – 3:30 p.m.: Keynote Session #3
Jon Montgomery first delighted Canadians by winning gold in men's skeleton at the 2010 Vancouver Winter Olympics. Now, as the host of The Amazing Race Canada, he is a charming ambassador for the country's most beautiful sights. In this keynote presentation, Montgomery will draw upon the parallels between high-performance athletics and everyday life, and will share with delegates the discipline, conditioning, and curiosity required to optimize ourselves and our businesses.
4 – 5:30 p.m.: Saskatchewan Woman-Owned Business Reception for IBAS Members
Hosted in partnership with Women Entrepreneurs of Saskatchewan (WESK), female brokerage owners are invited an exclusive, free, IBAS members-only meet-and-greet reception at convention from 4 – 5:30 p.m. on Friday, October 15. Here, attendees can learn about WESK's new Woman-Owned Saskatchewan Business recognition program, and hear from inspiring women entrepreneurs from outside the insurance industry, who are making waves in Saskatchewan's business community. Drinks and hors d'oeuvres are courtesy of Wawanesa Insurance.
6 – 11 p.m.: CEO's Social
This one-of-a-kind evening is our way of saying thank you for your incredible support during the pandemic. It is an opportunity for delegates to come together, meet with vendors, grab food and drinks, share a laugh, and hear award-winning music from Saskatchewan's own Jordyn Pollard, as well as our headline performer — Juno Award- and CCMA-winning country music star, George Canyon. 
The Fine Print
What's Included: Your registration fee covers all education sessions (6.0 CE hours) and entertainment. It is also inclusive of your Thursday lunch and supper, as well as all three meals on Friday.
Hotel Rooms: IBAS has reserved a block of rooms at the host venue, as well as at adjacent properties. Upon successfully registering for convention, you will receive a confirmation e-mail that contains the link to reserve your hotel room(s) directly. The IBAS block is available for minimum two-night stays only.
Our Commitment: This event is being organized based on certain assumptions relative to the evolving public health situation as well as the status of the provincial re-opening plan. While we have a high degree of confidence in the event proceeding as presented, we will continue to monitor circumstances and adjust as necessary. The safety and comfort of our members, partners, and staff will remain our top priority in all our planning and decisions. If you register and no longer feel comfortable attending, let us know and we'll make it right.
Pre-Convention Activities
WEDNESDAY, OCTOBER 13, 2021
1 – 5 p.m.: Leaders Forum Meeting
The September meeting of the IBAS Leaders Forum will be held at the Sheraton Cavalier Hotel, and is only to Leaders Forum members only. For details, please e-mail nicole.sinclair@ibas.ca.
THURSDAY, OCTOBER 14, 2021
8:30 – 10:30 a.m.: Rural Brokerage Advisory Committee Meeting
The 'relaunched' IBAS Rural Brokerage Advisory Committee will also be hosting its inaugural meeting at the Sheraton Cavalier Hotel. Click here for details or if you're interested in joining this committee.
Registration Details & Eligibility
To ensure available seats do not go unused, we are asking all delegates registering to please plan to attend the full convention program, including both the Thursday and Friday evening events. We are also asking, for your personal safety and for that of your peers, to please plan to be vaccinated in advance of convention. 
General Member Registration (Early-Bird)
$399 + GST Until August 31
Brokerages that met their registration limits in the Advanced Member Registration window may also purchase additional (unlimited) tickets during General Member Registration.
Only a limited number of full convention passes available — once they're gone, they're gone.
The price increases to $449 + GST on September 1.
Online in-person registration is currently open to IBAS broker members only. If you represent an industry partner (non-broker) and are wishing to register, please e-mail community@ibas.ca. 
Intact Virtual Stage (Online Simulcast)
Two Registration Options Now Available
Option #1:

 Open to IBAS broker members only. Registration fee is $39 + GST and all registrants are eligible for up to 6.0 hours of CE credit. 100% these online fees will go toward the our 2021 #BrokersCare Campaign for Mental Health. Participants must be logged in for the full program (excluding evening events) to receive the full credit. 

Option #2:

Open to both IBAS broker members and industry partners. Registration is free but no CE credit is awarded.
Please note that you may add multiple registrants to the same order upon checkout.
A huge thank you to our convention partners:



Registration
General Member Registration (Early-Bird Pricing)
$399.00
Register now
Open to IBAS member brokers only
This registration type is restricted to members.
Intact Virtual Stage (CE Eligible)
$39.00
Register now
Online simulcast; 6.0 CE credit hours available (open to IBAS member brokers only)
This registration type is restricted to members.
Intact Virtual Stage (CE Ineligible)
Register now
Online simulcast; no CE available (open to both members and non-members)