Free Indigenous Awareness Webinar
September 30, 2021, 1:30 - 3:30 PM
The first-ever National Day for Truth & Reconciliation in Canada will be held on Thursday, September 30. Within the insurance brokerage community, we view this day as an important opportunity to educate ourselves on the rich history of Indigenous Peoples, and advance the shared responsibility we all have in building stronger, more equitable economic and social relationships.
As part of that commitment, the Insurance Brokers Association of Saskatchewan (IBAS) and the Insurance Brokers Association of Ontario (IBAO) are co-hosting a special, two-hour webinar, from 1:30 – 3:30 p.m. CST (Saskatchewan time) / 3:30 – 5:30 p.m. EDT on September 30. Facilitated by John Lagimodiere, this Zoom-based online session will cover:
Terminology and demographics;
Common misconceptions;
The history of the Treaties;
The Métis journey;
The legacy of the Indian Act and residential schools;
Cultural protocols; and
A conversation on what lies ahead.
This event is free for all IBAS members, IBAO members, and industry partners.
If you have questions, please contact the IBAS events team at community@ibas.ca. Please note that the costs for this session have been generously covered by:

About the Speaker
John Lagimodiere is the president of Aboriginal Consulting Services, publisher of Eagle Feather News, and is a well-respected Saskatchewan entrepreneur. He has been facilitating and hosting Indigenous awareness seminars since 1997, including for such widely respected organizations as Nutrien, Affinity Credit Union, and the Saskatoon Police Service. He is a recipient of the Saskatchewan Centennial Medal as well as the Queen's Jubilee Medal, and is a member of the Métis Nation of Saskatchewan, CUMFI Local #165.
#BrokersCare Donation Announcement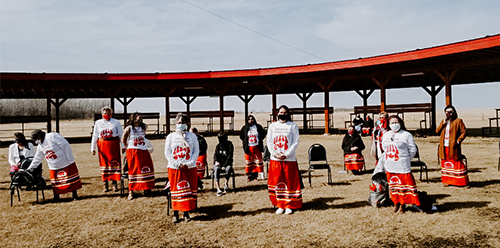 REGINA (September 13, 2021) – The Insurance Brokers Association of Saskatchewan is announcing today its largest donation yet as part of the 2021 #BrokersCare Campaign for Mental Health.
IBAS has earmarked $7,500 for the Chief Red Bear Children's Lodge at Cowessess First Nation. The contribution is being graciously matched by IBAS member Westland Insurance, for a total donation of $15,000.
Launched this past April, Chief Red Bear Children's Lodge will be the first self-governing child welfare service in Canada under Bill C-92 legislation, which affirms Indigenous People's jurisdiction over child and family services. The lodge will provide cultural identity and intervention supports, as well as ongoing healing programs and resources, to Cowessess band members across the country.
"With more than 175 branch locations nationwide, we have a responsibility to our customers, our 2,000-plus employees, and the communities we serve to fully commit to the truth and reconciliation calls to action," says Don Thompson, executive vice president of insurance and prairie operations for Westland Insurance. "While this is just one very small step on that journey, we are proud to team up with IBAS to demonstrate that commitment and begin to address the destructive legacy of residential schools."
Through the #BrokersCare Campaign, presented by Wawanesa Insurance, nearly $60,000 in project funding has been provided to-date to 14 different community organizations throughout the province.
For more information, please contact IBAS President & CEO Derek Lothian at derek.lothian@ibas.ca.
Registration