Latest News > 77,353 reasons to say 'thank you'
Posted on December 22, 2021
More than 700 t-shirts, dozens of fundraisers, and hundreds of donations later, we are proud to share that the 2021 #BrokersCare Campaign for Mental Health has provided a grand total of $77,353 project funding to 18 different organizations across Saskatchewan, from the Chief Red Bear Children's Lodge to The Do More Ag Foundation.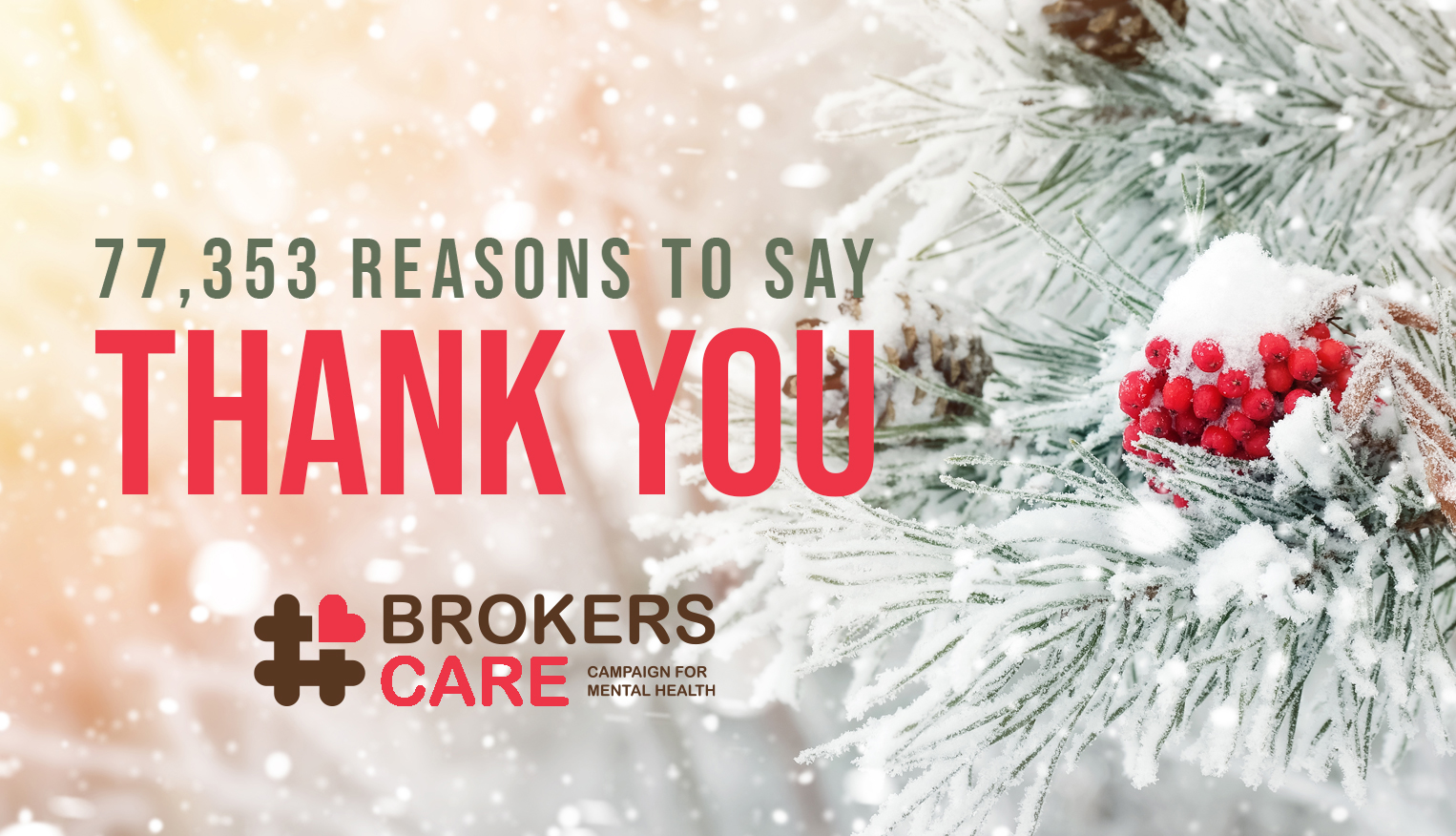 The holidays are a special time of year, full of gratitude, caring, and community. As I reflect on the past 12 months at the Insurance Brokers Association of Saskatchewan (IBAS), I am truly humbled by the generosity of our members and partners, and how those three hallmarks of the season remain ingrained in the very foundation of our entire industry.
At the start of 2021, IBAS launched the #BrokersCare Campaign for Mental Health alongside our Presenting Partner, Wawanesa Insurance. The purpose of this initiative was simple: to support our neighbours through the unique challenges of the pandemic by promoting improved mental wellness.
The truth of the matter is, initially, we didn't know what this campaign would look like. We just knew there was a profound need and that we had an opportunity to help. After all, that's what being a broker is all about.
More than 700 t-shirts, dozens of fundraisers, and literally hundreds of donations later, I am beyond proud to share that the campaign has been able to provide a grand total of $77,353 in funding to grassroots mental health projects across the province, ranging from the delivery of mental health first aid courses and crisis counselling services to both in-school and extra-curricular youth programming. Among the 18 funding recipients include: Chief Red Bear Children's Lodge, Phoenix Residential Society, Hospitality Saskatchewan, Sask Girls United, The Do More Ag Foundation, Saskatoon Industry Education Council, Envision Counselling and Support Centre, and the Canadian Mental Health Association.
None of this, however, would have been possible without you. So, on behalf our entire team at IBAS, thank you. Please know that your contribution, regardless of whether it was $5 or $500, went directly to make a meaningful, tangible difference in someone's life — at a difficult time when perhaps they needed it most.
At the risk of being long-winded (I know, that doesn't sound like me at all, right?!), I would be remiss if I didn't give few special shout-outs to some wonderful folks:
To Wawanesa Insurance, for trusting us enough to jump 'all-in' on this project without a lot of starting details to work off.
To the IBAS Emerging Brokers Council, for spearheading the organization of the campaign and for diligently reviewing each funding application that was received.
To Cole Thorpe and the crew at Prairie Proud, for joining forces on our campaign t-shirts and taking a chance on us when it absolutely did not make financial or logistical sense to do so.
To Saskatchewan Blue Cross, Westland Insurance, and Saskatoon Fire & Flood, for offering to match three large donations we made through the campaign, effectively doubling our impact within those projects instantaneously.
And last but certainly not least: to each and every brokerage, carrier, restoration company, and adjusting firm that found unique ways to engage your respective teams under the #BrokersCare banner.
Our deep appreciation cannot be adequately expressed in an e-mail.
As we previewed in our member update last week, heading into 2022, we are immensely excited that the #BrokersCare 'brand' will continue as our permanent philanthropic vehicle — sharpening our focus on the cause of children's wellness. We look forward to passing along more information on how you can get involved early in the New Year.
Until then, thank you once more. Be sure to take some downtime to rest and recharge in the coming weeks. Unplug when you have the chance. And take two minutes to check in on your friends and neighbours — especially those who may not get to spend the break with family. These times are still uncertain; but we will get through them the same way we have the past year: by leaning on each other.
Happy holidays, and I will see you in 2022!
Best wishes,
Derek Lothian, ICD.D
President & CEO
Insurance Brokers Association of Saskatchewan