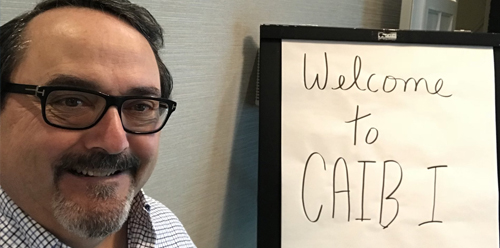 The Insurance Brokers Association of Saskatchewan (IBAS) is pleased to announce it has reached an agreement with West Coast Training Ltd. (WCT) and long-time instructor Todd Hochban to continue delivering Canadian Accredited Insurance Broker (CAIB) Immersion courses to Saskatchewan brokers through the summer of 2023.
Beginning this August, IBAS and WCT will also offer monthly, one-hour Ask Todd online study sessions for individuals preparing to write CAIB exams.
"Todd has earned a reputation in the province as a master trainer, with a deep understanding of insurance and what it takes to be a successful broker," says IBAS President & CEO Derek Lothian. "This partnership will help ensure that member brokerages retain access to affordable and effective options to educate and licence their staffs, which is a key priority in our 2020-23 strategic plan introduced this past October."
2020-21 has been a record year in the three-decades-long IBAS and WCT relationship. The shift to online learning prompted by the COVID-19 pandemic has seen registration in CAIB Immersion programs skyrocket nearly 200 per cent compared to the five-year rolling average. All courses since May have been facilitated through Zoom, with class sizes climbing as high as 82 students.
"CAIB Immersion has historically been a classroom-based method of delivery, with both advantages and disadvantages," explains Lothian. "But the ability of WCT to duplicate much of what works in the classroom in a digital setting has been nothing short of remarkable. Exam pass rates have remained consistent, the cost of travel for many — especially rural — brokerages has been eliminated, and, in a lot of ways, student engagement has actually enriched. That kind of adaptability and innovation sets a great example for brokerages. We couldn't be more pleased to be renewing this partnership at such an important time for IBAS and its members."
The next intake of CAIB 4 Immersion runs March 12 – 19, while the next intake of CAIB 1 Immersion is scheduled for April 17 – 23. Brokerages may be eligible for funding support through the Re-Open Saskatchewan Training Subsidy (deadline recently extended to March 31) or the Canada-Saskatchewan Job Grant.
For more information, please contact IBAS Manager, Education & Operations, Jordan Jensen at (306) 525-8001 or jordan.jensen@ibas.ca.
A special thank you to IBAS's 2021 CAIB programming sponsor: